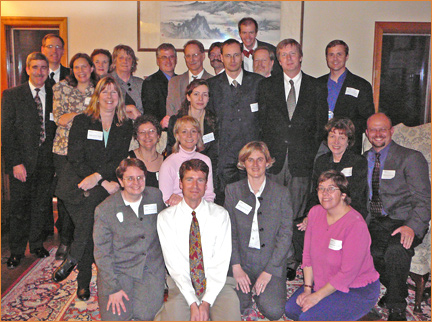 Memorial Service
Colleages gathered at David's memorial service, November 11, 2006, included:
Row 1 seated: Vicky McKinley, Aaron Peacock, Sarah Macnaughton, Susan (Sue) Sutton
Row 2 seated: Susan Pfiffner, Julia Stair Goufon, Anna Palmisano, Bret Baldwin
Row 3 perched: Holly PInkart, Laura Villenueva
Row 4 standing: Marc Mittleman, Nick Dowling, Cecily (Cissy) Fleming, Brenda Little, Susan Bornstein, Jim Guckert, Glen Smith, Eric Breen, Roland Geyer, Andrew (Drew) White, Tommy Phelps, Robert (Rob) Palmer, Mark Cole
Obituary
Dr. David Cleaveland White, of Knoxville, Tennessee died Wednesday, October 25, 2006, of complications following an automobile accident. He was 77 years old. A memorial service will be held at Second Presbyterian Church in Knoxville, Tennessee on November 11, at 3:00pm. In lieu of flowers, donations may be made to the D. C. White Award Fund, c/o Carol Colgan, Director of the American Academy of Microbiology, 1752 N Street, N.W., Washington, DC 20052.
David White, from his early childhood in Rock Island, Illinois, was an enthusiastic, curious and dedicated scientist. As a young boy he searched the fields and creeks around his home with his magnifying glass, his pockets stuffed with found treasures. His first microscope, which he won at a public school science fair, his years as a medical student and then as a professor of medicine fed his passion to understand how the interaction of microbial colonies worked to ensure success of the whole.
As an adult whose specialty became microbial ecology, he traveled the planet: searching the woods of North America, Lizard Island on the barrier reef of Australia, South Africa on a safari, the oyster beds off the coast of Florida, the deep sea vents, and under the frozen ice sheets of Antarctica, discovering the wonder of microbial life scratching out a living by working together. David worked on solving the problems of everyday as well as those which were far into the future. He was enthusiastic to share his findings with his colleagues around the world, and to rejoice in the gift of discovery and scholarship.
Dr. White was born May l8, 1929, in Moline, Illinois, the only son of Ted and Dorothy Cleaveland White. He graduated from Rock Island High School in 1947 and headed to Dartmouth College, Hanover, New Hampshire where he wrestled in the 120 pound class and earned his Dartmouth D, majored in chemistry and geology. Onto Tufts Medical School where he earned his MD, a time in the Navy Medical Corps Aviation where he served as ship's doctor in the Red Sea. After his navy experience he attended the then new Rockefeller University, New York and earned his Ph.D..
David took his education to the University of Kentucky Medical Center, joining the Biochemistry Department and teaching medical students. In 1972 the family moved to Florida State University, Tallahassee, Florida where Dr. White developed clinical programs in the Program in Medical Science to train students from the rural south to practice family medicine back home. To help his students and the community, he established a free clinic in the basement of a church to treat diabetes and hypertension; there, first year medical students were introduced to clinical practice.
In 1986 Dr. White accepted a job as a Distinguished Scientist at the University of Tennessee/Oak Ridge National Laboratory. His work there included on-going research, hosting post doctoral students and other scientists in his lab, traveling to scientific meetings, lecturing, giving papers, and publishing the successes. Dr. White served for 18 months as a part-timer in the Jet Propulsion Laboratory on planetary protection, working on clean sample-return so that if life is detected on Mars it won't actually be contaminants from Pasadena.
After an almost fatal car accident in 1992, Dr. White renewed his interest in medicine by studying non-invasive diagnosis by detailed analysis of the volatile and semi-volatile components of expired breath. His continuing belief was that much could be discovered in such an analysis, discoveries related to wellness, sickness and deceit. Five days before his death he was awarded a large grant to see if his ideas could be proven.
Dr. Terry Hazen, Senior Scientist and Department Head of Ecology at Lawrence Berkeley National Laboratory, University of California was with David the night before he died and said:
"I was at the ERSP meeting and had a good chat with David on Tuesday. He was one of the kindest and nicest people I have ever known. He was a good friend to many of us and one of the most outstanding microbial ecologists of our time. He will be sorely missed. At the age of 77 he was still a better scientist than people half his age. He founded the Journal of Microbiological Methods, he was on the editorial board of many other journals, he was an advisor to Department of Energy, The National Laboratories, National Science Foundation, World Health Organization, Environmental Protection Agency and a host of others. His list of accomplishments is staggering, He had more than 500 peer-reviewed journal publications, including 10 that were published so far in 2006. His papers had more than 6,000 citations…He left an indelible mark on us all and on science."
Dr. White's own statement of faith, "Science is like a monastery where we work on the manuscript that is an ever-deepening view of the majesty of interactions in this incredible universe." He served on the Scientific Board of Inquiry at Princeton Theological Seminary and as an elder in the First Presbyterian Church, Tallahassee, Florida.
In July, 2006, Dr White and his wife, the former Sandra Shoults, celebrated their fiftieth wedding anniversary. Their entire family gathered in a beautiful cove on the coast of Maine. Surrounded by family and friends they hopped on a lobster boat, went sailing, swimming and rowing on the bay. And hand in hand they taught future scientists to search for treasures from the seashore and in the water. They ate lobster, did some fishing and shared stories of a lifetime of love, devotion and gratitude for their many blessings.
Dr. White is survived by his wife, Sandra S. White, their children Wendy White in Oak Park Illinois, Dr. Christopher White in Washington DC, and Andrew White in Raleigh NC, and their spouses Paul Ford, Dr. Tamara Zemlo and Jennifer Dolan as well as 10 grandchildren, and his sister, Marion Lardner and her husband Peter Lardner, of Rock Island Illinois.